We hope you haven't missed this…
<3
/ A Game Of Dwarves
Hi!
Almost a week has passed since the release of A Game of Dwarves now, and we couldn't be more satisfied.  The amount of user feedback has been huge, and most of it has been very positive. As I expressed in the last blog entry, we we're quite nervous - which in retrospect was uncalled for.
The launch went on smooth, with no technical problems. Short thereafter, user impressions started flooding in.
Most of it was very enthusiastic. Allow me to quote some of you: "Played non stop since I got home from college, Can't wait to play more tomorrow! Amazing game, thanks for making it!",  "Just wanted to tell the devs how much I appreciate the amount of love they've put into this jewel of a game." or the more modest "Thank you for a great game." .

I admit that this might be seen as some serious self-glorification. But how can I not quote this? Heartwarming words like this is what keeps us going - all we want to do is to make the best games we can for all of you! And these words tell us that we're on the right track.

But we're not there yet. Not everyone was as satisfied. For example many of you requested a way to fill up holes that had been dug by accident. We worked hard and implemented that feature a couple of days later.

In the future we will work with stuff like that. Listening to you and learn how we can improve A Game of Dwarves. New features, tweaks and balancing. For us at Zeal, making games is not something exclusive for game developers. It's a collaborative process between developers and players. It's about helping each other out to make the games you want to play.
We will also work on additions to the game in form of downloadable content. Some of it will be for free, and some of it will cost, though nothing will be necessary to use to play the game. Maybe you've seen the Halloween-themed objects on our Facebook page?

That's the near future for A Game of Dwarves and Zeal.  We will, of course, still take time to interact with all of you on the forums and on Facebook, no matter how great our workload will be.
Thanks to all of you, for your love and your support, for playing A Game of Dwarves and for loving it.
And an extra big thanks to our loyal Zealots. You know who you are.
Regards,
Thommy Siverman

Level design and QA
Zeal Game Studio

So, just a few more days now. A few more days left before A Game of Dwarves is released. The game that we have been working on, sometimes almost 24/7 for more than a year. The game in which we have invested not only our time but our hearts.
And it's turning out great! We're having a blast playing it. Just before writing this I was playing a custom game, and I got all caught up building a welcome room for new dwarflings. I wanted to make sure that when dwarflings arrive, they'd arrive in class. You know - fancy rugs, green plants, statues of their ancestors - the whole deal.
By mistake I dug right in to a goblin's lair, and a battle began. The goblins almost won, but in the end my brave soldiers prevailed and emerged victorious. Sadly, I lost my favorite champion, Svorn (May the bards sing songs of his great beard for ages to come). For Svorn and the other fallen heroes I built a cemetery, where those dwarves who still lived could mourn their lost comrades.
That's what I like so much about A Game of Dwarves. It allows you, the player, to create your own stories.  
Sure, the campaign comes with a predefined story (and a damn good one thanks to our story writer and designer Daniel), but there are still room for your personal experiences, for those unique scenarios that only you will witness.
In custom games, it's all about your own personal experiences. You set your own rules and create your own stories. Your wit and imagination will guarantee that your playthrough will be like no one else's. For example, one developer set out to build a subterranean pirate ship, furnishing it with stolen cannons and explosive barrels. Others have built grand halls, giant clubhouses, impenetrable forts and small towns. Many of us takes a liking to certain dwarves, giving them privileges  and building them personal rooms filled with the most luxurious furniture. 
And I wonder - what will you do? Will you share stories about how your berserker single handedly took out an entire band of orcs? Will you try to live peacefully with the gnomes or try to drive them from your lands? Will you compete with each other? Maybe in who can build the grandest castles? The safest treasure vaults? Or the coziest kitchens? Will you trade save files and collaborate in building projects? I am sure that you will do all this and much more.
But back to what's happening right now. 
At the moment we're working hard with polishing and trying to pin down and eliminate the last bugs. And now on Tuesday, we'll release A Game of Dwarves, allowing all of you to experience it. 

I admit it's kind of scary. But scary in a good way. I have no children of my own, but I imagine that this feeling is not very far from sending your children to their first day of school. However I'm confident that all of you will take good care of the game. After all - we're making  A Game of Dwarves for you.
Thank you for all your love, support and enthusiasm. It is what keeps us going during those late nights of work!

Thommy Siverman
Level design and QA
Zeal Game Studio
Grand Staircase! And Piano Room
The Final Stretch
We're almost there! As I'm writing these words we are 10 days and somewhere around 7 hours away from launch. Currently the office is filled with people working hard at finding and destroying the last bugs, and getting the last feedback into the game. 
I can hardly believe that we've been working on this game for over a year already. When we first started talking about the concept for the game all that we really knew was that we wanted Dwarves that lived underground and dug large caves.
We wanted to create a game that felt like (as I said so many times) those old-school management games that where huge in the mid- to late nineties. However the game grew way beyond a humble throwback to older games, it transformed into this insanely ambitious Dwarven Settlement Simulator. 
I remember the exact moment that I knew this game was going to be, not only good, but awesome. We had just delivered our first Playable to Paradox and the game had almost none of the features except for food and the digging mechanics implemented at the time.
My small settlement was starving and jsut seconds away from dying when I found a vein of gold! It secured me enough wealth to build food plants and survive. My settlement was saved!
Going from that  feeling of impending defeat to victory in a matter of seconds is not something that every game can achieve. 
Now one year later, finding a rare resource remains my favorite thing in the game but I've started spending more and more time building great and nice things. The thing I'm currently looking most forward to with the release is getting to see what mighty settlements and awesome caverns you guys will build.
I think that's it for this week's dev-blog until the next one that will be some sort of post-mortem on the production as a whole. 
Thank you for your time
//Thorwaldsson
A new little dwarf has found his way into the blog!
Our weekly dwarf for our lovely fans!
Weekly Update
Good day,
So first up is a quick update on whats going on right now.
The Beta have been going strong for a couple of weeks and the feedback have helped us something immense. We can finally see the light at the end of the tunnel. We still have a couple of months of development left but we are getting there.
This week the paradox on tour event is in full motion over in San Francisco and as far as I know everything is going great over there. Hopefully there'll be some new interviews or reports on the game up in a week or so.
The game itself is looking better than ever, it's now quite stable and the bugs are getting fewer each day.
Lately there have been quite a lot of questions about the teleport order so I guess I'll explain that particular feature in a bit more detail than I intended.
Teleport Order
Left Click on a dwarf to remove him from the game world and right click in order to drop him again. You can carry up to 5 dwarfs at a time. When you drop the dwarves the Order is given a cooldown before you can use it again.
We implemented this order for a couple of reasons; First and foremost, it's really convenient; it makes the game more comfortable to play. We've also had some issues with the path-finding when your dwarves need to find their way home in unusually large settlements.
There I'll stop for now since I don't have much more to say about the teleport order and I'm running out of time for this weeks post.
I'm also running out of topics so if you have anything you want me to talk about just post it down below :)
//Thorwaldsson
Weekly Update
Rally-Ho
Last week you got a small taste of the new interface when I showed you the tech tree and I think it's about time I show you some of the other new stuff we're implementing right now. However, since this is still WIP some of the features might be cut and some added. But I hope you'll get a deeper understanding of the general idea.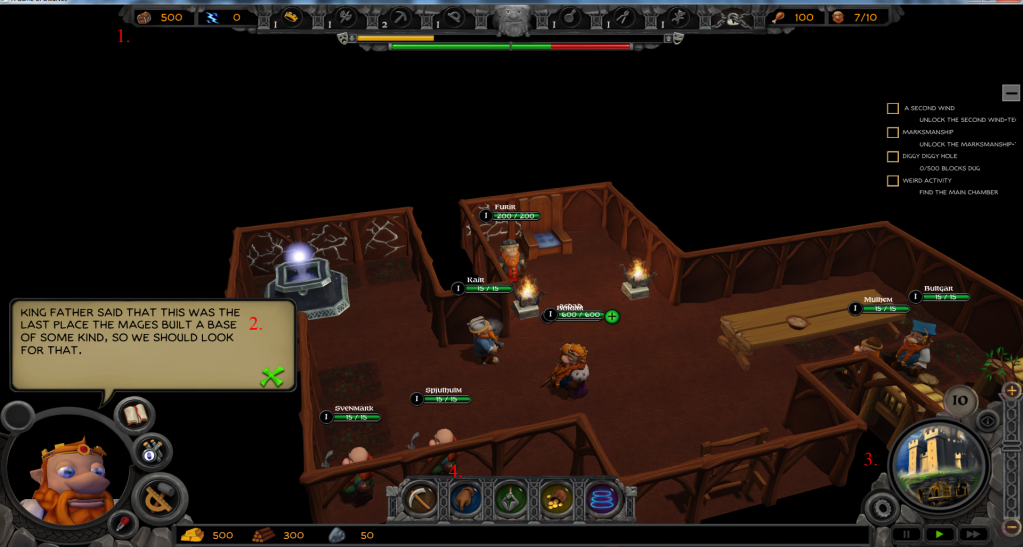 1 – Information Bar
The Information bar contains information regarding the current status of your settlement, you can see the total happiness of your dwarves and in what direction the happiness is currently heading.
You also have information about each individual dwarf here, divided into types of dwarves. You can instantly see if one of your diggers is under attack or if one of your military dwarves is starving.
Last but not least we've relocated some of the resources from the resource bar to here. Basically what we've done is divide resources that are used while crafting and resources that affect your dwarves and they are now displayed in different places.
2 – Prince Corner
The speech box is where the Prince will give you messages and warn you if/when you're playing poorly. The player will be able to bring up old conversations and look at them in a speech log of some sort.
In the Prince Corner there are also buttons that open new parts of the GUI such as the Build Menu or the Tech Tree.
3 – Hemfort Corner
This is a new part, we have removed the mini-map as it really made no sense to have a mini-map in a game such as this. Now instead we have a quick menu to Hemfort, a link with the dwarven mainland. Here you can order new dwarflings or trade with Hemfort. You can buy almost any resource if you have the wealth and should you have extra of something, then you are free to sell your excess materials.
4 – Order Bar
Here you select what orders to give your dwarves. While playing the game you have five orders at your command and you must learn to use each of them in order to truly succeed. The order you will use most of the time is the Dig Order. With this you mark blocks for excavation and your diggers will see your order fulfilled as soon as they can.
Next in line we have the Interact Order. With this you can press buttons and pull levers, this is manly used as a relaxed Order State where you are less likely to accidentally dig out the floor beneath you.
In the Middle we have the Move Order which is used to move your furniture around in your cave. This will be practical as you expand your settlement and might want to move your dining area to a safer place.
The Sell Order allows you to sell objects that you have placed in the game world. You can also "sell" dwarves should they become obsolete, or if you find yourself with more dwarves then you can manage.
Last but not least we have the Teleport Order. You can use this to instantly move dwarves across great distances. Perfect to use when mounting an attack on an enemy event room. However, some places have Teleport Disruptors that have to be destroyed before an area is made accessible. There is also a cooldown on the Order that hinders you from moving all your dwarves without any limit.
Well that's all for this week, next week is Paradox on Tour so I believe Robin (CEO of ZEAL) will bring you some updates during that. So keep your eyes open.
//Thorwaldsson
Weekly Update
Hi everyone,
If you have had your eyes open during the latest months you might have hear me talk about two things quite often; Research and Influence. I thinks it's time for me to explain these two features in greater detail than earlier.
Influence
During the course of the campaign you will gain influence points, you can spend these in the influence menu in order to upgrade your prince or your settlement. These upgrades stay with you throughout the entire campaign. I'm not gonna go through every tech but I'll touch on the three branches in the influence three.
First we have the Battle Branch – The techs here will increase your military power and the battle ability of your Prince. I recommend people to take at least the first point here since it gives your Prince basic combat skills so he won't die from simple goblins.
Then we have what we call the Production branch. Upgrades here will help you progress you settlement. The branch have a focus on resource management and gaining new dwarves quickly.
Last but not least we have the Research Branch, techs here will greatly aid you while researching on the different campaign levels. This might actually be stupidly powerful right now since you gain several free techs at the beginning of each level so I might have to nerf this some.
Below I'm showing you the evolution of the Influence tree through our development starting with the first rough draft and ending on what hopefully is the last one. 

The influence points you need to unlock stuff are gained by completing side quests in the campaign. You'll be able to access the influence techs in skirmish-mode as well, somehow.
Next, we have the Research Tree. Research points are gained by having a scholar attend to a research bench. He will then conduct research and when he have spent sufficient time working, you get one research point. The Techs in this tree have large effect on your settlement and could be considered you general strategy for the particular level your at.
For a short level or when playing very aggressive I recommend putting early points into techs that will enhance your military dwarves. Second Wind and Cloth Armor comes to mind. Second Wind grants full HP when a dwarf reaches a new level and Cloth Armor increases the HP of all your dwarves.
Should you on the other hand be playing on a longer level I'd recommend investing in techs that grants quicker researching and then taking more techs than when rushing. Maybe even go so far as to take some of the last tier techs and upgrade my settlement to perfection.
This is the current GUI build of the Research Tree - it might not be the final one, but you get an idea of what I'm going for here.
//Thorwaldsson